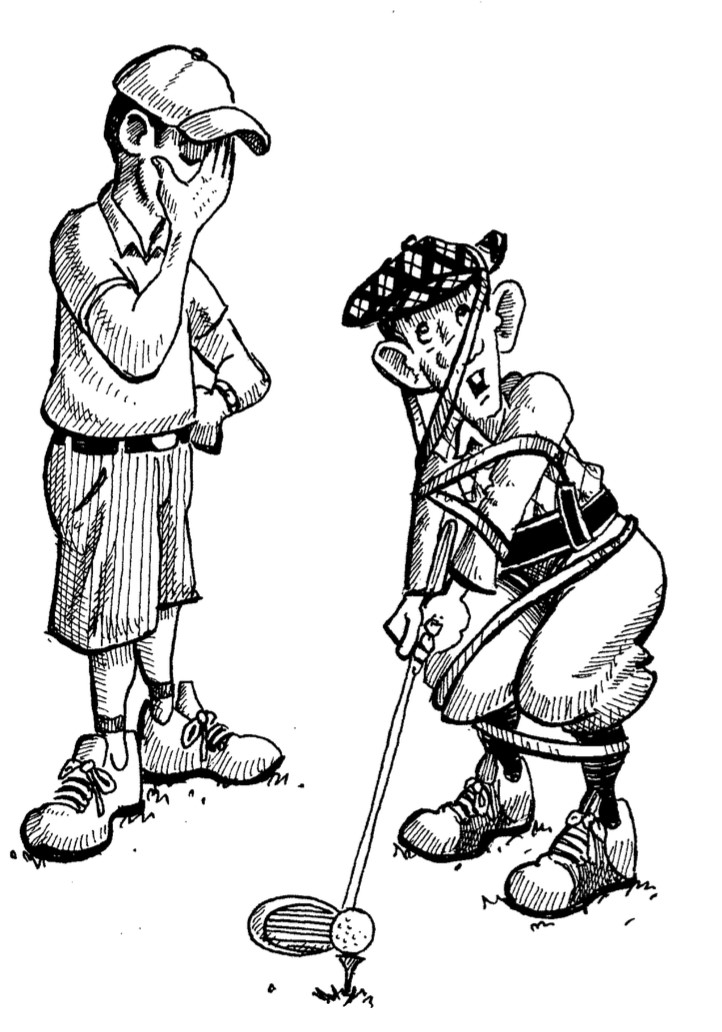 1.) THE LOWELL SUN (7/15/15)
'Shababa' – a guide for the resolute hacker
By DENNIS WHITTON
The title of Chapter 4 in Alex Costello's new book dealing with life as a … shall we say …. mediocre golfer, or hacker, or duffer, cuts to the chase: "Bogeys are your friend."
That about sums up the humorous, 139-page how-to book: "The Shababa Manifesto, a Handbook for 'Skill-Challenged' Golfers". Bogeys are your friend. And so is the beer-cart girl. And so are dots.
The book is a rejoinder of sorts to Ben Hogan's famous "Five Lessons", which delves into the golf swing in such excruciating detail that it's almost a parody of itself.
Using the pen name of Hubba Costello (his well-worn childhood nickname), the former lawyer, Sun editor and secondary school teacher crafts an 18-hole tale about life as a "Shababa."
To which you may rightfully say, "A what?"
"I was playing with a friend of mine, Chris Gurry, at North Andover Country Club and I asked him what kind of player a mutual friend of ours was," said Costello. "And he said, 'He's a (bleeping) Shababa.'"
Gurry's tone made it obvious what the term meant. It stuck in Costello's brain, which he admits is a dangerous place to get stuck. "My mind works in strange ways," he said. "A Shababa is a bad golfer who loves the game, but it applies in all areas of life. It's somebody who's not very good at something."
Costello draws the Shababa line at double-digit handicaps, which seems a bit low, given the opening chapter: "You stink, you really do. So just get over it.
" A 10 or 11 handicap, such as Costello, does not stink in my book. He disagrees: "Do I know with any certainty where the ball is going after I hit it?" he asks. "No."
The chapter names give you a good feel of what the book is about: "Practice!?! Why practice?" and "Don't think, just swing" and "Never, never, never give up."
And my personal favorite, "Never over- or underestimate the influence of alcohol."
"Ben Hogan said the secret is in the dirt," said Costello, referring to Hogan's propensity to practice until his hands bled. "For a Shababa, the secret is in the bar."
And the dots. Those lovable dots.
"I just wanted to do it, to write a book," said Costello, whose family owned this newspaper for more than a century. "It was fun. There is a market for crappy golfers."
The book is available at the UMass Lowell book store, at a variety of golf pro shops, and on Amazon. There are plans in the works to increase distribution.
The "Manifesto" includes some clever illustrations by Sam Edwards.
Notwithstanding the fact he stinks at golf, the true Shababa is a real competitor when the starting gun sounds. And he is enabled in his quest to win matches … and thus rounds at the bar, or a few quid … by the dots.
The dots, of course, are the marks on the scorecard indicating where the Shababa receives strokes from a superior golfer in match play. They turn doubles into bogeys, bogeys into pars and the occasional par or birdie into a nearly unbeatable force.
Guard those dots with your life, instructs Costello. Do not feel guilty about receiving them. They are the lifeblood of the game, the great equalizer.
The detail in the handbook is equal, in its own way, to Ben Hogan's. Although it's doubtful Hogan had plans to include as his sixth lesson something like "beer cart etiquette" — which thankfully Costello covers:
"Simple. Know the young lady's name, flatter her, tip her and, most importantly, find out if and when she will next be able to satisfy your thirst for swing oil."
Thankfully, the "Shababa Manifesto" is small enough to carry in your golf bag for quick reference. Although the size of the tip, apparently, is entirely up to the tipper.
Dennis Whitton's email is dwhitton@lowellsun.com
2.) LANCE SMITH
Rating: 5 out of 5 stars
There are all levels of golfers and this book is dedicated to those who enjoy playing the game but will never achieve a level of play and skill that is above mediocre. If a reader is one who fits this description, like I do, then "The Shababa Manifesto" is a book that person must read.
The book starts with a definition of a "Shababa", or also Baba for short: "Shababas are nothing more, and nothing less, than roving nomads of golf; pathetic, hopeless thrashers of the ball who insist on playing the game in spite of their enduring mediocrity." The author, Hubba Costello, goes on to state that a Shababa will always stink at golf. Now this may sound cruel, but it isn't – it is stated as a simple fact, and there are nineteen chapters to explain why.
If that definition wasn't enough to make the reader realize that this is a light, humorous book, then keep reading. The chapters are labeled as a hole on the course – 1 through 18, and of course, everyone's favorite place for a drink, the 19th hole. This can also be loosely called a how-to book for Shababas as well. However, instead of lessons that will tell one how to grip a club or where the hands should be located on the follow through, this book will give tips on how a Shababa can actually win money on the course when playing with better golfers.
As an example of both the humor and the "lessons" in the book, take Hole number 2 and the topic of practice. Many golf teachers will tell a student that he or she has to practice many hours and hundreds of shots on the range in order to improve. That theory doesn't work for Shababas in the book. The theory goes that because there are no consequences on the range, how will a Shababa improve his chance of hitting that green out of a steep bunker because he achieved that on his fifth shot in a perfectly raked and level bunker? As a card-carrying Shababa, this made sense to me.
The other good (and hilarious) tip in the book is that the most helpful item in a Shababa's bag is the pencil. The author explains that the pencil is what is used to mark dots on the scorecard. The dots represent the strokes allowed on holes for players with the higher handicap, thus making it easier for the Shababa to win a hole against a better golfer. I was laughing very hard during these passages as they were quite funny on describing how that Baba will win those holes.
These are just a couple of examples of the context of the book. It is not serious, very funny and has many situations where a Shababa will read about it and say to himself "I can relate to that!" It was a line I certainly said many times while reading this book.
A very entertaining and funny read, this book is one that can be read by anyone who enjoys the game, whether a Shababa or an excellent golfer. After reading this book, anyone who plays who doesn't enjoy a day on the course a little more is one who takes the game very seriously. That is something NOT recommended for a Shababa.
Pace of the book: It was a very fast read, not only because of the humor and organization of the book, but also because the dialogue and vocabulary are fairly simple. One doesn't need to have a dictionary of golf terms on the nearby table in order to understand the stories.
Do I recommend? Most readers, even if they have never picked up a golf club in their life, will enjoy the humor and connection with the everyday person in this book. For readers who are Shababas, it is a must-read.
I wish to thank NetGalley for providing a copy of the book in exchange for an honest review.
3.) CARRIE PADGETT
Rating: 5 out of 5 stars
I'm currently on a new book fast. I have over 100 books on my physical To Be Read shelves and a few more than that in my Kindle's To Be Read file.
I've forced myself to stop looking at the daily deals and freebies until I whittle these two down.
But something caught my attention and I downloaded The Shababa Manifesto: A Handbook for Skill-Challenged Golfers by Hubba Costello.
It's a quick read and very fun but full of good advice as well.
Mr. Costello posits that most of who golf are "Shababa's." That is … we stink at golf. I know I resemble that description. But we Shababas love the game.
The book's chapters are numbered and labeled from warming up, to the first hole through the 19th hole.
Mr. Costello includes advice for all golfers who stink. His first assessment may seem discouraging (you stink at golf) but it actually ended up being quite encouraging (so do the vast majority of golfers. All the playing in the world, all the coaching, all the practice will only succeed in making us stink a bit less.
I took up golfing … about ten years ago, give or take. I stink just as much today as I did the day I started. But if anything, I love the game even more. I've had lessons. I've played many hours. My putting improved marginally after a coaching session. I relate to all the chapters in Mr. Costello's manifesto.
He reminds us that golf is first of all–a game. Even during your worst round ever, you've enjoyed some beautiful scenery, gotten a bit of exercise, spent time with friends (or made new ones), and maybe even made a good shot or two.
The best insight Mr. Costello shared, in my opinion, is that the Shababa must keep in mind that it's not the distance you can hit that wins rounds, it's the fewest strokes. I know I'm guilty of trying to blast the ball over the water hazard. Instead, I see the wisdom now of hitting just in front of the water, then it's an easy shot over. Of course, I always seem to buy balls with H2O magnets embedded, so that may not work for me. But I'm willing to give it a shot on my next round. That presupposes our California drought hasn't dried up all the water hazards. Hey … maybe this is the time I should be out there! Less water to attract my balls.
In fact, I think I'll go put some of Mr. Costello's advice to work for me.
See you on the links.
4.) CLIFF JENNINGS
Rating: 4 out of 5 stars
The Shababa Manifesto is a cleverly written book for golfers of all skill levels. Hidden within the various holes (chapters) are actually hidden tips of which most golfers should take note. The main ones are that golf is a game meant for fun and that free advice is worth what you pay for it (ie. amateurs teach amateurs how to be amateur..(or shababa's). A good book to buy your golfing friends or to share during a golfing trip.
5.) BRITT GASTREICH
Rating: 5 out of 5 stars
For golfers, this is a very funny book! We had lots of laughs sharing some of the writings with friends!